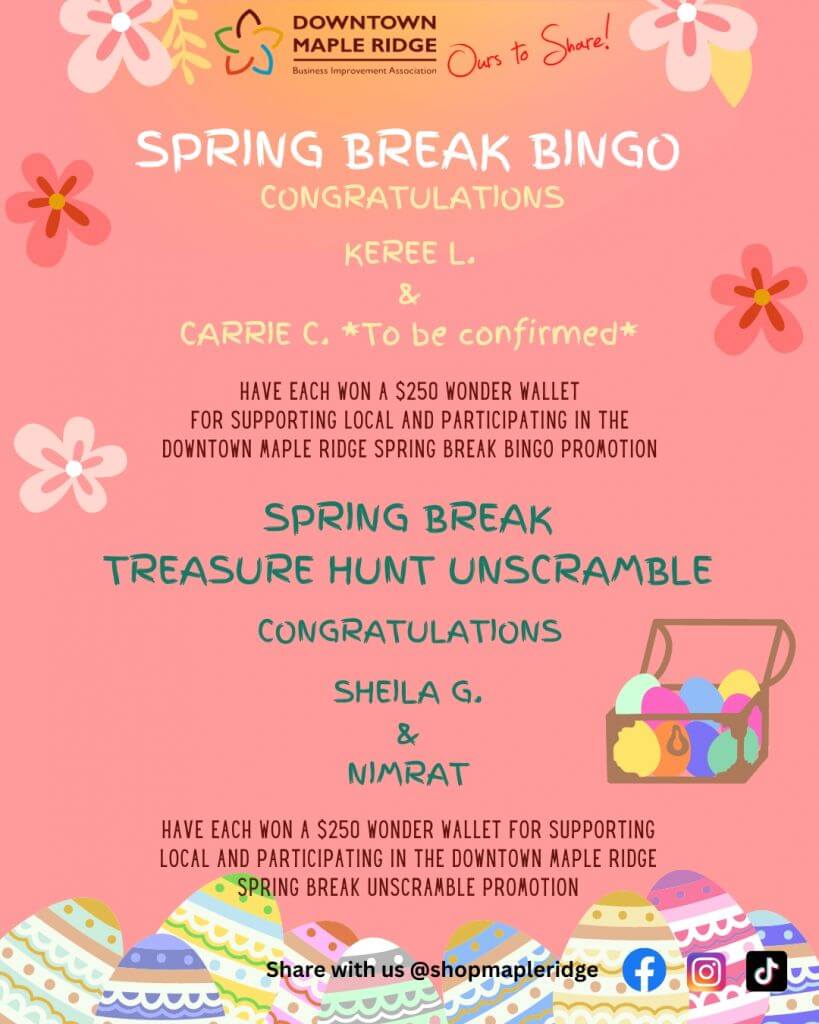 Participating Businessess
Spring Break Treasure Hunt Unscramble & BINGO! Contest Rules - presented by the Downtown Maple Ridge Business Improvement Association (DMRBIA):
The total amount to be won under the Contest is $1,000 in Gift Cards (4 "Wonder Wallets of $250 each to be awarded to 2 Treasure Hunt and 2 BINGO winners).
The playing card must be submitted March 25, 2023 to an official Drop "box" (approved and verified drop boxes as listed on the BIA website), or submitted to the DMRBIA office
(#34 - 22374 Lougheed Highway, Maple Ridge, B.C.)
Each playing card/official entry form submitted must meet the criteria below to be eligible to win a prize, as per the instructions to each game

from a participating business located in the Downtown Maple Ridge area,

contest runs March 10 to midnight March 24, 2023
the original or a copy made at the DMRBIA office,
inscribed with a contact name, primary telephone number
NO minimum purchase required,
not be for a returned item.

Alcohol and gaming/lottery purchases are excluded from the Contest.
Winners will be contacted directly by the DMRBIA via the phone # provided on the entry (we are not responsible for incorrect or illegible writing - will result in a re draw), no answers will be left a message, if possible to do so, and must respond in 72 hours, after which time if no contact is made a new winner will be drawn.
The gift certificate is not redeemable for cash, is redeemable only at the business shown on the gift certificate. Winner is responsible for reading and understanding the details provided on each gift card and contacting the business(es) to determine any special redemption specifics, such as requirement to redeem at one time.
One winning entry / household.
DMRBIA employees are ineligible to enter the Contest.
Unlimited entries allowed, but only one stamp can be earned per visit (BINGO).