CONTACTS:
METHODOLOGY
Angusfilm's mission is film site sustainability.  Sustainable filming can be defined as the belief that film activity can and should be a positive experience that benefits all parties involved in the process, including: government, industry, community, business, and the public.  Our methodology for achieving successful, positive, sustainable film activity is best defined by four strategic principles:  public safety, community relationships, logistics management, and environmental standards.
PUBLIC SAFETY
Public safety is and always must be the primary objective and priority focus of effective film site supervision.  Angusfilm liaisons have extensive experience providing on-site risk management and hazard assessment for our clients over diverse and often unique locations including: intersections, streets, parks, buildings, sidewalks, paths, docks, wharfs, beaches, playgrounds and more.  Film sites are often a hectic, fast-paced environment full of large equipment, trucks and crew in constant movement during a busy shoot day.  Equipment, electrical cable and rigging ropes can create a multitude of trip hazards on sidewalks.  Bright lights and atmospheric fog can create visibility hazards for vehicles and pedestrians.  Stunts and special effects often require detailed vehicle and pedestrian traffic lockups.   
Public safety mitigation planning begins during the technical surveys, where foundational elements are agreed upon.  The safety strategies are practiced and implemented during the preparation phase of film activity.  During the shoot phase, diligent supervision is required to ensure the safety plan is executed.  Film Liaisons are a constant presence on site, traversing all corners of the permit area, walking sidewalks and trails, monitoring road safety, monitoring the speed of production vehicles in neighborhoods and near playgrounds, constantly assessing risks and monitoring the capabilities of the crew assigned to safety tasks.  Due to its creative nature and the technical challenges involved, film is a dynamic environment that often changes and adapts on the day, requiring an attentive and assertive onsite film liaison presence with the conviction to intervene to ensure public safety is always the top priority. 
COMMUNITY RELATIONSHIPS 
Sustainable film activity requires community relationships founded on integrity, via clear and honest communication.  The strength of the BC Film Industry is its unique access to a diverse assortment of locations having the characteristics required to convince the audience they could be anywhere in the world.  The success of the BC Film Industry requires continued access to film locations, and that access is dependent upon positive relationships built and maintained with trust and integrity.  The BC Film Industry continues to have the support of a vast majority of British Columbians, which is a testament to the importance the industry has placed on its relationships.  But as the industry has grown in recent years, new and increasing challenges have grown with it, which has only heightened the importance of community relationships, social initiatives and economic benefit.  
We believe the best way to fairly represent the interests of the community is to be part of the community.  Angusfilm is committed to honouring community trust, nurturing existing positive relationships with all stakeholders including: public, businesses, residents, First Nations, government, community organizations and more.  Where trust has been damaged due to previous failures, we seek to mend those relationships through reconciliation, taking time to meet and listen to grievances and concerns, and striving to address those concerns.  Our film liaisons are skilled in public relations, respectful negotiation, mediation, and able to find compromise and common ground amongst seemingly conflicting objectives. 
A key element of this methodology is our commitment to having a local film liaison as key member of our team.  Mark Wilmot is uniquely qualified to succeed as an ambassador and mediator, able to assist in communication between productions and businesses.  We strongly believe that combining local representation with the expertise of our senior management team, best creates a foundation for nurturing lasting relationships, and is an investment in the community itself. 
This method has proved very effective, resulting in tangible positive changes to previously strained relationships in high-use business districts including Deep Cove, Horseshoe Bay, Ladner Village and Downtown Mission.  Community and business feedback specifically highlighted accountability and communication as key factors in changing the situation.  Business owners can contact the film liaison and have concerns addressed in real time, before a situation could escalate.  Our history of achieving sustainable film activity with our seven municipal partners serves as an example of effective communication, accountability and community values. 
LOGISTICS MANAGEMENT
Managing the logistics of film activity is vital to creating a successful film permit and ensuring film activity is successful for each party involved.  Angusfilm regularly manages and monitors film logistics for clients, organizing arrival times, managing parking for crew, work trucks and circus trailers while ensuring appropriate space is left for the public.  Our Film Liaisons regularly supervise road lane closures via intermittent traffic control, so that traffic is not held beyond the agreed duration.  We supervise the placement of equipment, make recommendations on the placement of production assistants, ensure observance of bylaws, enforce curfew restrictions, and ensure access to businesses during filming.   
Each location has unique logistical challenges, and Angusfilm focuses intently on these challenges, while using methods and strategies that have proved effective in similar locations.  Proper logistics planning prevents many of the problems that regularly plague the Film Industry.  The issues that do arise are often the result of a failure of internal communication between departments within the film crew.  Our film liaisons ensure all policies, procedures, and requirements are successfully communicated to every crew department.  We work with productions to ensure crew and equipment do not sprawl beyond the agreed footprint. 
ENVIRONMENTAL STANDARDS
Angusfilm monitors film activity to ensure environmental standards are maintained at all times.  We provide film liaison services for a large variety of parks and natural habitats, requiring strict adherence to provincial and federal regulations.  Our film liaisons are able to identify and prevent the use of invasive plant species, and protect flora and fauna.  We have expertise regarding best practices for mitigating impact to spawning fish, nesting birds, tree roots, soil erosion, and more.  We regularly monitor production vehicles for fuel and fluid leaks, ensuring spill protection supplies are present at all times.  We are knowledgeable in special effects products such as artificial snow and atmospheric fog.
604-313-5221 | downtownparking@shaw.ca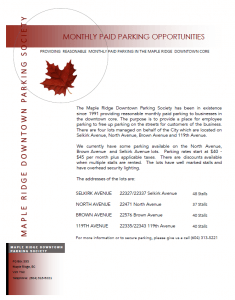 The Maple Ridge Downtown Parking Society has been in existence since 1991 providing reasonable monthly paid parking to businesses in the downtown core. The purpose is to provide a place for employee parking to free up parking on the streets for customers of the business. There are four lots managed on behalf of the City which are located on Selkirk Avenue, North Avenue, Brown Avenue and 119th Avenue.
We currently have some parking available on the North Avenue, Brown Avenue and Selkirk Avenue lots. Parking rates start at $40 - $45 per month plus applicable taxes. There are discounts available when multiple stalls are rented. The lots have well marked stalls and have overhead security lighting. 
The addresses of the lots are:
SELKIRK AVENUE - 22327 / 223367 Selkirk Avenue (48 Stalls) APPLICATION FORM
NORTH AVENUE - 22471 North Avenue (37 Stalls) APPLICATION FORM
BROWN AVENUE - 22576 Brown Avenue (40 Stalls) APPLICATION FORM
119TH AVENUE - 22335 / 22343 119th Avenue (40 Stalls)